Coping with loneliness and isolation – support, information and guidance
For those living alone sometimes loneliness and isolation can become unbearable and have an impact on their mental and physical health.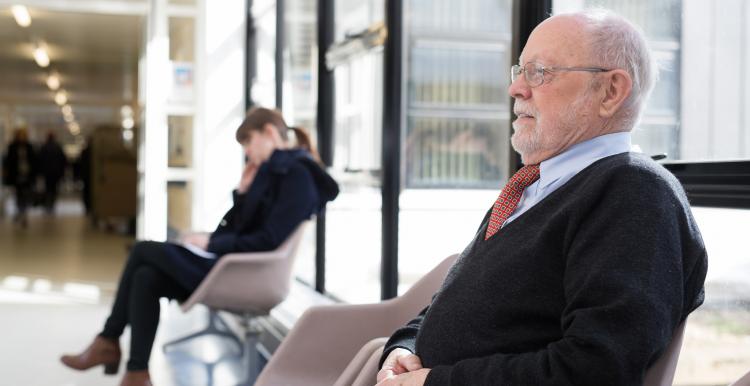 Information on loneliness and isolation along with links to Slough organisations and groups who can provide support can all be found on this page:
Covid-19- Community Response
One Slough goal is to build community resilience in Slough to help residents in times of crisis including providing support in response to the coronavirus crisis. This is a challenging time for everyone. One Slough want to help local people to support one another and provide essential services to people who need it. If you need help, call 01753 944198
Age Space
Berkshire has recognised the ageing population and increasing cases of dementia, and the need to increase service provision to assist those living with dementia and their carers. See  NHS Services for people with Dementia and Local Charities supporting people with Dementia for more information about the services and support available.
Age UK
For the elderly in particular, loneliness can have a big impact on their lives but there is an array of support available from Age UK, including their befriending service.
Age UK - Berkshire
Berkshire Age UK offers a free befriending service in Berkshire. Their team of dedicated and caring volunteers visit clients in their own homes or speak to them on the phone to provide companionship and engage in friendly conversation to help break the cycle of loneliness. You can contact Berkshire Age UK by email: info@ageukberkshire.org.uk or phone: 0118 959 4242
Befriending Scheme
Feeling lonely? Age Concern East Berkshire offer a Befriending services for those that feel isolated and lonely. The befriending service is a vital support service in addressing this issue. The team of specially selected volunteers offer visits to older people in their own homes, providing social contact and support. The majority of home visits are to housebound people living alone without nearby friends or family. For more information call 01753 822890.
Befriending Scheme
Friends in Need is a peer support community for anyone who is living with depression, anxiety, social isolation and/or loneliness. It can be really beneficial to meet other people who understand how you're feeling, so you know you're not alone. Friends in Need is a non-judgemental, safe and confidential group with the aim to help lift feelings of depression and anxiety through social activities and by connecting people with others. Activities and meet up sessions may not be running through the lockdown/Covid-19 period. For further information contact 07950 303 832 or email Charlene.morgan@bucksmind.org.uk.
Bereavement- Cruse
Cruse offers telephone, email and website support for people of all ages who have been bereaved. They have a Freephone national helpline 0808 808 1677 and local services, and a website (hopeagain.org.uk) specifically for children and young people.  Visit the Cruse website for more information.
Community Mental Health Team
If there is an emergency, please call 999. You can ask your GP to refer you to the community mental health team. If you need urgent help, but it's not an emergency, you can contact the Mental Health Crisis Team by calling: 111 and asking to speak to the Mental Health Crisis Team or speaking direct my calling 0300 365 0300 or 0300 365 9999.
Community Transport
Slough Community Transport are here to help members with all their travel needs.  They provide transport for anyone who lives in the Slough and Burnham area, both individuals and groups.  Carers are welcome to accompany you.  They are happy to take you anywhere in the country (we do need extra notice for long trips).  Joining us is easy, just click here for a membership form. Generally we are available from 9.00 until 5.00, but are able to arrange trips outside of these times if requested. Visit the website for more information or call 01753 691 131.
Dementia Friends
A Dementia Friends Champion is a volunteer who encourages others to make a positive difference to people living with dementia in their community. They do this by giving them information about the personal impact of dementia, and what they can do to help.  Visit the Dementia Friends website.
Independent Age
Whether you need some help to care for yourself, changes to your home to make it more suitable, or just a hand with household chores, there are places you can find help. This guide is available online as well as in audio format.
Mind
Mind is a charity that provides advice and support to empower anyone experiencing a mental health problem. They also campaign to improve services, raise awareness and promote understanding. Mind has practical tips to help you manage feelings of loneliness, and information about other places you can go for support.  Visit the Mind website.
Physical Activity at Home
SMILE's main focus is to provide light aerobic exercise within a highly sociable environment to the older community. Sessions are delivered at many local community centres and halls so there may be one on your doorstep.  At an amazing price of £2 a session you can improve your quality of life through gentle exercise and making new friends. During this pandemic sessions are currently not running; however SMILE have put together this home-based programme.
Reach Out Campaign
The council, in partnership with the Slough Wellbeing Board, has launched #ReachOut, an initiative to tackle loneliness and social isolation in the borough. Being alone is not always the same as being lonely. Loneliness can affect those feeling sad about being by themselves, or those feeling a disconnection from the world around them. You can even feel lonely, surrounded by others. The aim of the campaign is to improve the health and wellbeing of Slough residents, by encouraging people to 'reach out' and seek help and support if they are feeling lonely or socially isolated; or if they might know someone feeling this way and needing help.
Wellbeing Subscribing through your GP
Wellbeing Prescribing is a service where partners refer residents to a link worker to co-produce a non-clinical prescription. The prescription links residents to activities and support in the community that may benefit and it is particularly effective in helping individuals to manage long-term conditions, mental health problems and social isolation. The voluntary and community sector (VCS) plays a crucial role in the service by delivering the activities and groups that make up the prescription. Referrals to the service are currently made through GP practices, Adult Social Care and Neighbourhood Services.
Silverline
The Silver Line offers older people support with loneliness including a 24-hour telephone helpline which is available 365 days a year on 0800 4 70 80 90 and a befriending service to combat loneliness.  Visit the Silver Line website.
The Samaritans
The Samaritans provide a free listening service, with no judgement, no pressure, and will help you work through what's on your mind. Go to the  Samaritans website to find out more about how they can help. You can call them free on 116 123.
Wavelength
Wavelength gives media technology to lonely people living in poverty. For people who are lonely, a simple radio or television can feel like a lifeline.   Visit the Wavelength website to find out how you can apply for help.
If you need advice on accessing health and care services, coping with family pressures, mental health, or keeping safe and well, we have developed advice and information pages on all these topics.