Tributes to Healthwatch Slough Chair, Colin Pill
It is with real sadness that we heard about the passing of Colin Pill on Wednesday 3rd February.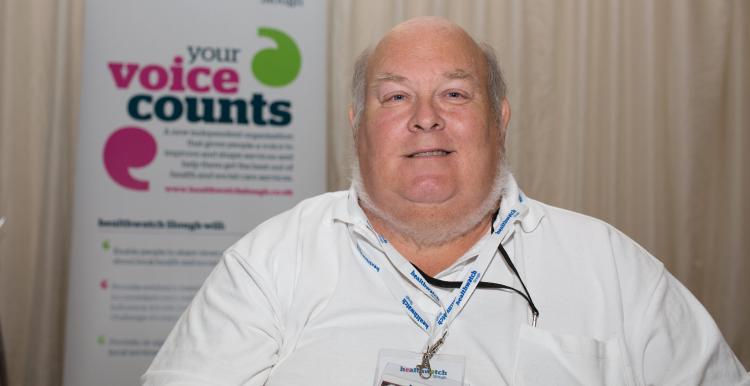 Colin was an inspirational and tireless advocate for the people of Slough who devoted many years to ensuring local people were able to shape how health and care services are delivered.  He was passionate about the wellbeing of people from all backgrounds particularly young people and those with disabilities.
Colin was the chair of Healthwatch Slough from 2013, having been involved in the Local Involvement Network and other patient involvement organisations beforehand.  Never afraid of speaking the truth to people in powerful positions, he helped make health and care services better for people in Slough. We will miss him enormously. Our thoughts are with his wife, Kaki and all his friends of family.
Colin was someone who cared for everyone out there in the community. It was really great to have known him, share ideas and work together at Healthwatch. He was always eager to listen to our people's views. He will be sorely missed, what a champion. RIP. Colin.
It was with a heavy heart that I received this news Wednesday morning. My deepest condolences to his family. Colin was a very special human being who cared so much for his community and would measure no efforts in trying to make a difference in Slough. It's a great loss for all of us, especially those who knew him personally. He will be missed.
I came to know Colin just a few months ago, his smiling face and gentle yet strong personality will be staying with us for the rest of our lives.
He was a man of great Intellect, vision and courage. He dedicated himself to support the people of Slough. It was great working with him. My sincere condolences to Kaki his wife. May the Almighty God Rest his soul in Eternal peace Ameen.
I was very saddened to hear the official news of Colin's passing. I had the honour to work alongside him on the board of HW Slough which chaired and conducted these meeting very professionally. He will be remembered for his passion and devotion for serving the people of Slough Rest in peace Colin
Colin has done a tremendous amount of work in Slough for such a long time and he will certainly be missed by many. My thoughts are with his family at this time.
Colin Pill Chairman of Healthwatch Slough, was a special man with a golden heart. He worked for local people as an advocate to improve the services in the community. He was a person who was full of creative ideas. He always made time to listen to people's concerns and issues. As he was disabled himself, accessibility for disabled people was very close to his heart. One of his last projects in Slough was completed last year, which highlighted the issues faced by the disabled community in our town. I have lost a dear friend and a great champion in our community. Colin was always very happy, positive and continued to support us through tough times. He always supported me in my work, acting as a co-Chair for "Living in Harmony", a wellbeing group in Slough. He was actively involved in many of the activities we ran, he will be sorely missed.
In addition to Colins many other commitments, we were lucky enough to persuade him to join our Board of Trustees where he contributed so much in terms of insight for the challenges that our members face in all aspects of daily living. Colin was passionate about making a difference to the People of Slough and had begun to plan with us a new service for recovery of wheelchair and scooter users who breakdown away from home - an experience that he himself had on more than one occasion! He and his devoted wife, Kaki, were often in Town and would call into Shopmobility to catch up on the news and to brighten our day with a funny story or two. Many of our Drivers worked with Colin over the years, both as a Trustee and as a Dial A Ride service user (when his own supercar was off the road), all of the expressions of condolence received in our office last week about Colin could be summarised by one Driver words "Such a good man and such a great loss to Slough" May he Rest in Peace and Rise in Glory