Maternal Mental Health Week 2021
During this week, Healthwatch Slough are dedicated to raising awareness of common mental health difficulties that Mothers may face. Having a baby is a major life event and it is normal to experience a range of emotions during this time.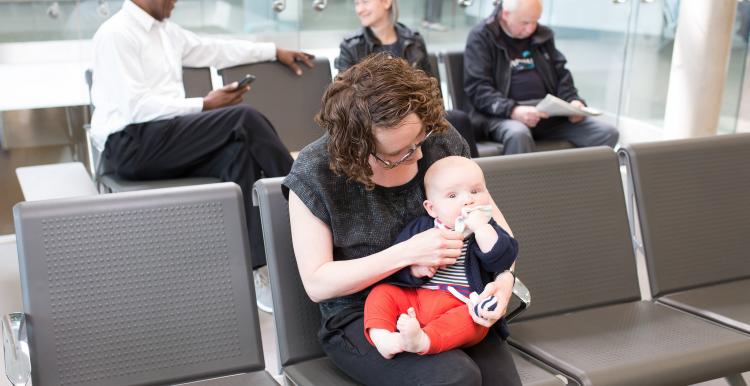 Why is it important? 
Stigma causes 7 in 10 women to downplay the severity of their mental health issues, even to those who are closest to them. We know that seeking support increases the chance of recovery and helps improve the relationship between a Mum and her baby. By raising awareness, we hope to encourage conversations about mental health to take place.  
This year the pandemic has placed further pressures on maternal mental health while at the same time reducing opportunities for formal and informal support. You can read more in this report from the Maternal Mental Health Alliance.  
What is a maternal mental health issue? 
Perinatal Depression. Lots of people are aware of postnatal depression but may not know that it can start in pregnancy. Mothers may experience low mood, numbness and feelings of indifference or hostility towards their baby.  

Perinatal Anxiety. Anxiety could be experienced alongside depression or on its own. Symptoms include feeling dizzy, a churning stomach and restlessness.  

Perinatal OCD. This is a type of anxiety disorder involving obsessions and compulsions that are likely to relate to feelings about being a parent and your baby. 

Postpartum Psychosis. This is a rare but serious mental health condition that needs urgent treatment. Symptoms usually start suddenly, and Mums often experience delusions and hallucinations.   

Postpartum PTSD. Trauma before, during or after birth could result in flashbacks and intrusive thoughts.  
For more information, including a full list of signs and symptoms see the MIND website.  
There are different treatment options for each of these conditions, so a correct diagnosis is key to recovery.  
"There are no rules about how stressed you must be before talking to your midwife or GP about how you feel. You can talk to a healthcare professional at any time if you have any concerns during your pregnancy. The sooner you ask for help, the sooner you can get the right support, if you need it."- Tommys.org 
Journeys to recovery 
The theme of this year's Maternal Mental Health Awareness Week is 'Journeys to Recovery'. The Maternal Mental Health Alliance recognise that each person's journey is individual and we want to raise awareness of different lived experiences.  
We would like to share Kirsty's story. As well as a difficult pregnancy, Kristy felt pressure both to breastfeed and to produce 'the perfect family'. Thanks to the support from her husband and homebirth midwives, Kristy sought the help she needed for her mental health. 
"People tell you to enjoy the time before the baby comes, but instead of 'blooming' I was constantly sick." 
You can read Kirsty's full story here.  
Reaching Out for Support 
Like Kirsty, many women access mental health support by talking to their midwife during pregnancy or after birth. GPs or Health Visitors can also offer help or refer Mums for more support from NHS services. 
These specialist support services include: 
The Perinatal Mental Health Team 

Talking Therapies  

 Hospital Mother and Baby Units 
"Getting the right support at the right time is so important. If you reach out and don't get heard the first time, keep trying." (MIND) 
There are many voluntary groups and organisations that offer support to Mums with mental health issues. More details can be found at the bottom of this article.  
How has COVID affected maternal mental health?  
The Maternal Mental Health Alliance have conducted a rapid evidence review of the affect COVID has had. Their findings show that the pandemic has affected women more than men and pointed to women and families experiencing socioeconomic deprivation, and women and families of colour, being the most affected.  
Less access to formal and informal support systems has made it difficult to seek help for some people. You can read the report here 
MIND has some excellent ideas for self-care that may help parents who are feeling low. Reaching out to talk to other new parents, either face to face or online and sharing anxieties or worries can be re-assuring.  
Looking after yourself, including relaxation, sleep and gentle exercise could help. 
Further resources: 
Action on Postpartum Psychosis (APP) 
Information and support on postpartum psychosis, online chatroom, peer support network. 
Visit the APP website. 
Anxiety UK 
Organisation run by with anxiety disorders, offering information, support and therapies for people experiencing anxiety. 
Helpline: 08444 775 774. 
Visit the Anxiety UK website. 
B-EAT 
Eating disorders charity providing information, support, local groups and an online chatroom. 
Helpline: 0845 634 1414. 
Visit the B-EAT website. 
Best Beginnings  
Free NHS-accredited Baby Buddy app offering evidence-based information and self-care tools to help parents during pregnancy and early stages of parenting. 
App users also have access to a confidential, text-based Crisis Messenger which provides 24/7 support for new and expectant parents who are feeling extremely anxious or overwhelmed. 
Maternal Mental Health Alliance  
Raising awareness of maternal mental health issues. They organise and promote the awareness week. 
Visit the MMHA website 
Maternal OCD 
Maternal OCD is a voluntary organisation dedicated to raising the profile of obsessive-compulsive disorder (OCD) for mothers.  
Call the OCD Action helpline on 0845 390 6232 or 0207 253 2664. 
Email: support@ocdaction.org.uk 
Visit the Maternal OCD website 
MIND 
Mental health charity providing information, support, local groups and an online chatroom. 
Call them on 0300 123 3393. 
Visit the MIND website. 
PANDAS 
Helpline, social media and other support for parents with perinatal depression. 
Call them on 0808 1961 776  
Visit the PANDAS website 
TOMMYS 
Providing advice for parents in the perinatal period, they produced The Wellbeing Plan, endorsed by NICE, that helps you start thinking about how you feel emotionally and what support you might need in your pregnancy and after the birth. Access the plan here