Healthwatch Slough was invited to participate in a series of mental health activities by Slough Libraries in May 2017. This report sets out what people told us about mental health along with some guidance on how to improve your own mental health.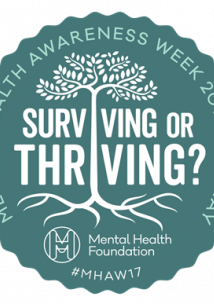 What did we do?
We invited 6 local organisation to take part in mental health week
We met with a mental health support group to gather ideas on suggested activities and events to take place during the week.
We created a 6 question surveys for young people this was completed by 22 young people aged 12 – 21 years
We created a Mental Health Awareness week comments form this was completed by 40 people during the week
Healthwatch Slough displayed an information stand at venues including the Curve, Britwell & Cippenham Libraries.
Healthwatch activities available for people to participate in during the week
The Healthwatch Slough Quiet Corner
Download the Healthwatch APPYNESS APP
Healthwatch Chat with the team
Coping Steps
Surviving or Thriving Tree
More needs to be done in schools around mental health it shouldn't be just done to celebrities to raise awareness