Slough residents tell us What Matters Most when it comes to health and social care services
The What Matters Most survey ran from March to May 2021 and 101 people shared their views and experiences with us. A big thank you to everyone who participated.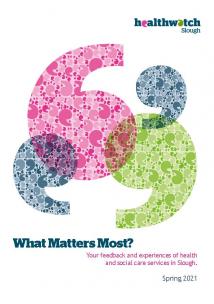 This report highlights the key issues which Slough residents are concerned about when it comes to health and social care:  
Summary
We asked which services people thought Healthwatch Slough should be focusing on in the coming year and the results were:  
36% said GP Services 

17% said Mental Health Services 

18% said improving overall access to health and social care services 
We also asked people across Slough how easy or difficult it has been to get help from health or social care services in the last 12 months. 
49% of people said they found it 'Difficult' to access services over the last year 

38% of people found it 'Normal' to access services over the last year 

13% of people said it was 'Easy' to access services over the last year 
Positive ratings for health and social care services 
We asked people across Slough to rate health and social care services either positively or negatively according to the experiences they have had in the past 12 months. We heard a total of 115 positive experiences from service users on health and social care services.   
The services which had the most positive reviews were:  
Vaccination Services (COVID-19) 
Ambulance 
Voluntary and community sector 
NHS 119 (COVID-19) 
"COVID vaccination centres have been extremely welcoming and helpful with signposting and providing a clear and well planned service."
Negative ratings for health and social care services 
We also heard 98 negative experiences when using health and social care services. Factors which contributed to poor experiences include: 
Difficulties contacting and accessing services 

Waiting times for appointments  

Negative/poor staff attitudes  

Poor communication (lack of information and presence of language barriers)  
Slough residents raised concerns around GP Services, specifically: difficulty getting appointments, reception staff acting as "barriers" to care, long waiting times and lack of communication. 
"The time to get an appointment for a GP was extremely long. Also one has to contact the GP between a certain time slot in the mornings and you don't get an appointment if you don't call within that time. As well as, the behaviour by some of the receptionists was a bit rude."
Mental Health Services were more likely to provide a negative experience if the resident struggled to get an appointment due to long waiting lists. 
"The main thing is the atrocious waiting list for children's mental health. I am waiting for my daughter to be assessed for autism and been told there is a 23-month waiting list. Disgusting!"
As a result of what we have heard from this campaign, Healthwatch Slough we will now begin work on setting our annual work priorities based on what residents have told us. 
We will be sharing this report widely with all key stakeholders in the County to make sure the voices of everyone who took part are heard.